THE HACIENDA
HIS STORY
History by John McCready, The Face 97
It's hard, at first, to see how a story about a building could also be a story about memory, status, nostalgia, money, madness, despondency, magic, luck, simple greed (and saintly generosity), drugs, youth, life, death and violence. Even music. Not really a story at all then. More like a soap opera.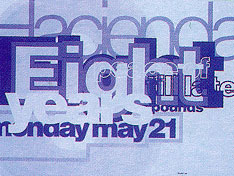 As far as most people are concerned, the story of a building which became a club before becoming an idea and even a lifestyle, begins in the middle. In a blur if you were lucky. And the end? Well, there isn't one yet. Because this story is a cultural autopsy with the death certificate lost forever in the post.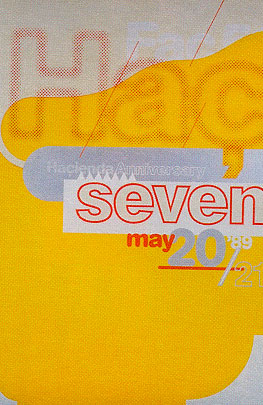 The Hacienda is fifteen years old. Five would be an achievement. Ten worth writing home about certainly. But fifteen? Seems to me that having got this far, a 30th birthday will be no surprise.
The idea of opening a club was not a new one. Obviously. Since 1978 Tony Wilson, television presenter and punk rock enthusiast had hosted The Factory at The Russell Club in Hulme Manchester, putting on local names and likely chancers - big national, even international names for spitting kids in ill-fitting jackets.
Tony had a record label also called Factory and Rob Gretton managed a local group called Joy Division who had put some records out on Tony's Label.
Joy Division, after the truly tragic suicide of their singer Ian Curtis, had by late 1980 become New Order. By this stage, with The Factory gone, Rob was thinking of a different type of club. A place purpose built that you actually owned - not some badly lit basement with Bostik carpets - a place you borrowed temporarily from some thug in a camel coat.
When asked many years later why he had come up with the idea, Rob, typically flip, would claim he wanted somewhere he could go to 'ogle birds'. In truth it really had more to do with his secret artiness, and the need of a shop to talk shop in. Music may also be a factor.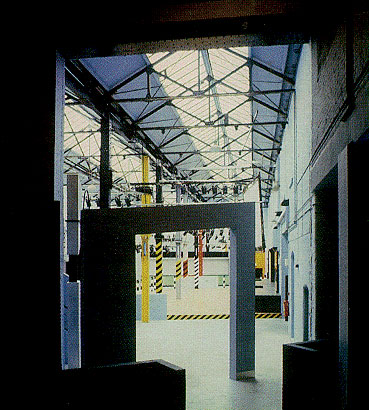 By the summer of 1981, the things were under way. Factory sleeve designer Peter Saville mentioned his friend Ben Kelly as the man to turn an unassuming interior into a club environment to equal the likes of New York's Danceteria, Fun House and Paradise Garage - places Rob and Tony, now traveling with the truly international New Order, would enthuse about as ultimate night time spaces.
Kelly, later described by Rob as a, 'Poncy Southern git', saw the Whitworth Street ex-yacht showroom Factory had secured for the club and jumped at the chance.
Somewhere close to schedule, with the walls still wet and planks on the floor to negotiate areas of unfinished floor, The Hacienda opened on May 21st 1982. This impressive new space was christened with it's own Factory catalogue number - 51.
The name - The Hacienda - (Mexican for big beautiful house) had come from some swanky Situationist text that Rob had been leafing through. On the 21st it was invite only - the new wave hierarchy were out in force.
Hewan Clark was the DJ. He went on to DJ every single night the club was open for the next four years, a significant fact considering the initial madness of a decision to open seven days a week.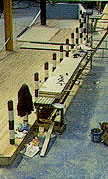 Dance Floor Under
Construction 1982
Northern irony being no better back then than it is now, slug-like comedian Bernard Manning was hired to slither across the stage and cut the ribbon, as it were, in his broad north Manchester accent. He later disappeared, puzzled and waving his usual fee.
The Architectural Review declared the club, "a pioneering interior". For people who just listened to records and just needed a big space to do it in, your first time at the Hacienda was (is) a crash course in the aesthetics of design which simply takes your breath away. It's impossible to escape the idea that the club, like the label had, through Ben Kelly, realized a unique vision of how things should be - changing the expectations of UK club-goers used to being treated like dirt, overnight. Kelly recently commented that his inspiration really came, "from the building itself and my arrogance in thinking I knew what a club designed for Factory and New Order should look like".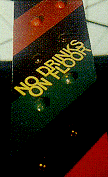 By the end of the first year some of the dust had settled and the paint had dried. A regular membership of post-punk trendies had now claimed the space as their own - most of them making rather too much of the club's association with Factory Records. DJ John Tracey, now sharing Hewan's considerable load during a seven day work week, started playing Gerry Anderson's Thunderbirds theme so they could all wheel about in circles with their arms stretched out at the end of a night.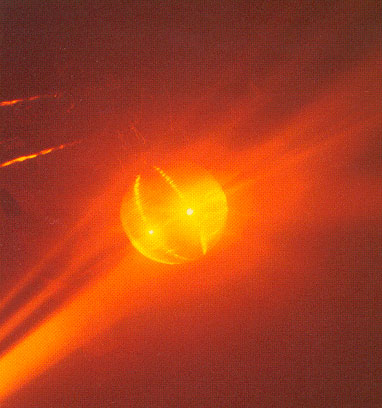 And the music, as we can see from the members newsletters and play lists of the time settled as a schizophrenic mix of Simple Minds and Willie Hutch; Iggy Pop and Sharon Redd. Obviously things were a long way from Ce Ce Rogers "Someday" and Pacific State at this point.
It cost five pounds 51 to become a member of The Hacienda and for that you would get a pound discount on everything. Which meant you got in free half the time. Drink was alehouse cheap at this stage. Many people came simply to get slotted and found themselves sitting on the floor listening to William Burroughs reading aloud from his mucky books. In the pre-house era; due to Mike Pickering's knack of booking bands at the point just before they broke big, you could see Frankie Goes To Hollywood or Culture Club for 2.50 (Pickering was then a member of Factory's Quando Quango - the idea of Djing yet to occur to him).
The straight-laced Local Times sent Robert King to 'review' the club in 1983. Interviewing a dead pan Rob Gretton in the Gay Traitor bar he asked what kind of people the club was aiming to attract. "The kind with two arms and two legs", was the reply he should have seen coming. Robert wrote the conversation in the cu was, 'a mouth to ear affair', and dubbed the crowd 'a hairstyle exhibition'. "There can't be many clubs where men wear dark overcoats well into June", he added, concluding: "Go if you've not been already. By all means put setting gel in your hair but don't feel that you have to".
Television program The Tube visited for a nose in January 1984, bringing an unknown called Madonna with them. Proper dance music from various schools started to make a real mark on nights like Mike Pickering's long-running Nude which began in 1985. John Tracey's The End: A No Funk Night died a natural death at the end of 1984. There was a revolution around the corner. By 1986 electro legend Greg Wilson had had a night at the club playing the solidly black percussive New York sound to a set of new faces. For the princely sum of 3.50 you could have seen Grandmaster Flash and the Furious Five dressed up like the Glitter Band.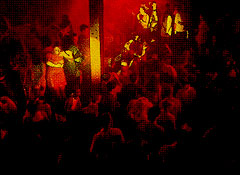 By August 1986 The Hacienda was full with what is quaintly described in its own records as, 'a band-less disco'. Money was starting to be made too and Paul Mason became Manager of the club, poached from a successful Rock City in Nottingham to keep it that way. Paul remembers his induction during a board meeting Factory-Style where Rob Gretton during a heated discussion with Tony Wilson threw his chips at him. Tony and Rob ended up grappling on the floor. There are, sadly, no pictures.

Fac 51 The Hacienda Exterior Sign
Then the bomb dropped with no warning that I can remember. Apart from maybe DJ Jon Dasilva's siren sound effects. People always used to use the phrase Acid House. To me that has never made any sense. In the beginning, as somebody with a deep voice used to say, there was a house. Records with singing in them, almost like gospel with big, pushy rhythms and vaguely spaced dubs. House certainly sounded new back then (obviously we weren't as clever as we are now in spotting the disco roots of the sound) but it was still polite.
Acid was a different sound altogether - menacing, growling, ungrateful and volatile, as its best like a starved dog prowling circles around an unopened can. The Chicago House Party Tour which stopped at the club in March 1987 with Frankie Knuckles, Marshall and the rest of them getting their first taste of gullible limeys paying through their nose for their instinctive magic, showed that house , now a big part of nights like Nude and Wide, was here to stay. But acid sounded like coded radio signals, a kind of dance instruction from another planet. At least until some wayward holiday makers brought us all a present back.
According to Shaun and Bez, interviewed some time after the event, and not usually known for being good with dates, some of their mates had been away on holiday in Valencia and Ibiza and had brought back some Ecstasy tablets. People tried them out and they seemed to fit the music perfectly. Many lost their inhibitions overnight - feeling comfortable enough to get on stages and podiums and wave their arms in a state of, well, ecstasy - hearing things in the music that they couldn't hear before, NME's Danny Kelly, at the height of Madchester, famously commented that ecstasy had "made the white man dance".
Perhaps someday soon the neat magic of Acid dovetailing into Ecstasy will be revealed as a CIA plot to see what ordinary kids from Harpurhey looked like when they were off their heads. Whatever, a new low rent crowd had started mixing with the converted hairdressers and Factory obsessives of old. It was, at times, a volatile mix.
But the drugs turned an often socially confusing crowd into one sweaty nation under the influence of a groove twisted out of a small silver box - the Roland 303. I asked Paul Cons where The Hacienda would have been without house? He replied that a better question would be, 'Where would house be without ecstasy?' Things seemed like they couldn't get any stranger. I imagine Bez with a sinister, Hammer baddie expression as he commented some years later, "The Hacienda didn't change us - we changed the Hacienda. It all went off under the balcony in the left hand corner."
But this madness needed a name and a night if it was to really make an impact. Paul Cons installed as part of the management team since 1986, and struck by the fact that you couldn't breathe in the club on a good night, came up with a Hot concept - water, ice pops, a swimming pool in the middle of the dance floor - a fairly standard in the Balearic Islands at the time, but unusual nonetheless for northern England. Hot didn't last long - from the summer until Christmas'88 - but is perhaps the best remembered night in the club's history. Jon Dasilva (who had recently taken Dean's place alongside Dave Haslam at the Saturday Wide night after Dean had left, fed up with being pestered for house during his famed Latin break) and Mike Pickering sound - tracked the madness.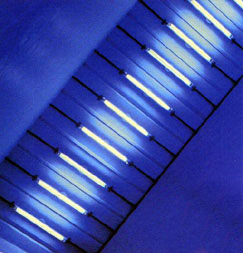 A Guy Called Gerald and Graham Massey of 808 State would turn up unannounced, banging on the DJ booth door with tapes of deranged 20 minutes acid tracks which were gratefully played in full. Dasilva got himself a rep for using sound effects of thunderstorm and rain to underline the insanity. People threw water about and nobody got upset. Minus the tales of chemical excess, these were the times you might want to tell your grandchildren about.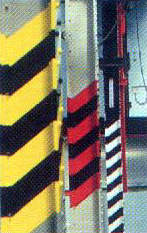 Architectural detail of the
trade mark pillars
Paul Cons insisted Hot should end on a high and jacket it in with spirits still hovering ten feet above the ground in anticipation. But there was still Zumbar, a retarded cabaret night with fire-eaters and a Wheel-of-Fortune. DJ Dave Haslam's Temperance Club continued too; breaking new ground with idiosyncratic and open-minded mix of music from James to Mantronix; James Brown to The Smiths, which had much to do with the wide-trousers revolution called Baggy and the fact that, from the great Happy Mondays down, all Manchester bands began sounding like James Brown's Funky Drummer played by The Velvet Underground. Manchester and The Hacienda in particular was, as a direct result of all this, an underage tourist attraction.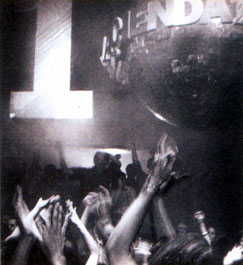 The Crowd at the 10th birthday Party
A scally sub cult called The Baldricks (named after RowanAtkinson's comic creation with the daft bowl headed hair cut) were led by little Martin who DJ-ed alongside Pickering at the increasingly frenetic Nude Fridays. Dressed in clothed four sizes too big for them, they got a photo taken around Bernard Sumner's new Mercedes.
The English Acid phenomenon made the cover of Time and Newsweek. Void, Shiva and Hallucienda nights followed Hot. The portable swimming pool at Hot had made such a splash that Paul Con's tried a one-off called Wet at Hathersage Road baths not far from the club. A Wet flyer promised, 'synchronized swimming and water dodgems'. On paper all this now looks like gimmicky bollocks with just a hint of exploitation. At the time it was more a case of people just wanting to do stupid things while off their knackers.
It was at this time that, during a London photo shoot lining up the main house offenders for yet another What The Fuck's Going On? piece, Mike Pickering met Graham Park - one of the very few DJ's outside London who, like Pickering, had become obsessed. The two got on like an Acid House on fire and phone numbers were exchanged.
A few weeks later Mike called the Scots refugee in Nottingham and asked if he could fill in for him while he was away. Graham jumped at the chance. By the time Mike got back, things had gone so well with Graham playing on Fridays that it was decided that the two would share the night from then on. Graham, like Dasilva, was a superb and inventive mixer who made his mark on the club in no uncertain terms.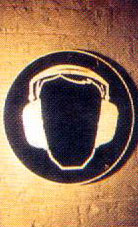 Wear Hearing Protection
Relying on what was written at the time, from 1989 onwards, you might have thought The Hacienda did little more than fend off the attentions of the Police, watch people get stabbed or die from taking ecstasy, close, re-open and close again while struggling to maintain the place dictated by 1988 and all that. But we're talking about eight years to date. And in that time The Hacienda has hosted the ultra successful Gay night Flesh (all the madness of Hot in high heels), let a former fan called Sasha play a few times (queues around the block and then around again), ripped up a well used dance floor and sold it (10 quid a piece, you planks) let Rolph Harris on stage for a can-you-tell-what-it-is-yet painting class, and allow a proper wedding to take place on stage giving journalists like me the chance to go on about The Hacienda as a church at great and pretentious length.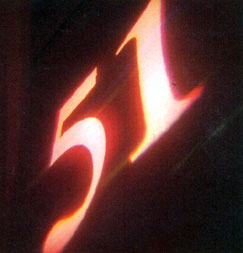 In a Coals-To-Newcastle sensation the club had even toured America to enthusiastic response from white people who had techno explained to them in a thick north Manchester accents.
All of this however, is still overshadowed by the death in July 1989 of teenager Clare Leighton, the unfortunate victim of an extreme reaction to ecstasy. Drugs had helped the club plot its peaks and, during the post '88 period, they would shadow it's worst times.
The comparatively innocent and embarrassingly titled Summer Of Love, a kind of blissful narcotic honeymoon, was soon spoiled by greedy dealers and cash-counting drug bosses fighting for control of a drug-taking frenzy on a scale none of them had witnessed before. The Hacienda became the backdrop to a struggle for control and supremacy. During 1990 with Clare Leighton's tragic death obviously in mind, the police had, under Operation Clubwatch, infiltrated The Hacienda seeming to conclude that the dealers, the problem and the club were one and the same. In May 1990 they informed manager Paul Mason of their intention to oppose an upcoming license renewal. At a hearing on 23 July 1990, having secured the assistance of George Carmen QC, fresh from helping fence-toothed comedian Ken Dodd in a much publicized tax rap, the club was granted six months to sort out the problems - no mean task in anybody's book.
By January 3rd 1991, at the postponed hearing, the magistrates there had been a 'positive change in direction' and renewed the club's license. The management themselves decided to re-introduce the original membership scheme they'd had to try and keep some of the troublemakers out. Within just a few weeks, on January 30th, Tony Wilson announced that the club would close voluntarily after door staff had been threatened with a gun as a result of a refused admission under the new membership scheme. "We are sick of the violence", he commented. Nerves were understandably frayed. Tony Wilson remembers one strained directors meeting. "I said to Barney (Sumner), 'I know it's been one long saga of human hell, but if there was a button you could press and the club would never have existed, you couldn't press it.' He replied "Where's the fucking button?".
The Hacienda took the time out to apply a new Ben Kelly color scheme and install airport style security measures of it's own like the metal detecting arch still there today. It opened again on May 10th. By this stage though, the long running Saturday with Park and Wainwright, the phenomenal success of Flesh, or even Rolf Harris weren't news enough for the papers who circled like vultures waiting for stabbings and drug stories. During all of this support came from some strange quarters. One Sun news piece called The Hacienda, 'The most important venue since the Cavern'. New Order who were never that visible in their financial association with the club wheeled themselves out to talk and have their pictures taken on the hallowed dance floor. "Basically", said Peter Hook, "This place has got to stay. It's the only place in Manchester that will let me in with jackboots on".
What with all of this some people forgot about the music - playing forever on like in that song by Sterling Void. And while those that took their cues from The Hacienda (Step Forward, Cream and Hard Times among many, many others) enjoy the ride on a cultural roller-coaster the club almost single handedly created, The Hacienda catches its breath.
I asked Tony Wilson a stupid question: Can it all happen again? He replied: "Of course it can. Somewhere around 1999 to 2001. And it probably won't have a thing to do with house music". And of course he's right. And the music will change (I'm sure you'll join me in hoping we're not dining in swimming pools to trip hop come the millennium) but the building will be there for it - heading for a twentieth birthday - still fighting, still breathing, still giving a damn. And Rob Gretton will be perched in his favorite ogling spot ('the upstairs lighting booth', if you must know) confirmed a bonafide house hero alongside Farley, Marshall, Frankie and the rest of them if you want to start adding it all up.
In September 1998, the company that owned and ran The Haçienda nightclub - Fac 51 - declared half a million pounds of debt and cessation of all club nights at Manchester's prime venue. A disused warehouse transformed into a birthplace of house music, The Haç represents fifteen years of club anthems, drug culture and DJs and will be sorely missed until it reopens.